I've known Stuart Buckland (pictured) for a long time. He took over the licence at Watford Gap Kennels from his father in 1989 and hasn't looked back since. He trained initially at Monmore Green Stadium for twelve years before moving to Hall Green in Birmingham for a similar period. He was welcomed back to Monmore Green with open arms in advance of Hall Green's closure and, until recently, has been there ever since, recording the title of 'top trainer' many times at both venues.
Stuart has been assisted by an extremely professional and reliable team. He has relied heavily on assistant trainers Jooles Slater (pictured below, left) and Kate Wright (Harrison). With Monmore racing six times a week plus open race duties on top they were kept very busy as are the outstanding team of kennelstaff.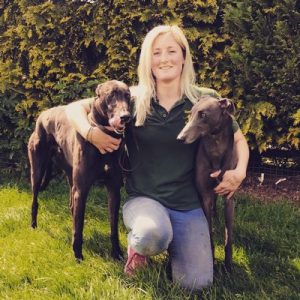 It was a 'no-brainer' to put the Club's dogs with Stuart and the team in Staffordshire. Being ideally placed in the centre of the country is helpful but, much more importantly, he has been unparalleled in my experience in caring for and recovering injured greyhounds. I had absolute confidence that all dogs in his kennel received the best handling and care possible and the enthusiasm that the assistant trainers showed on a daily basis, as was evident from the numerous kennel social media contributions, is infectious and heartening. No one does their job better than a professional who clearly enjoys every minute.
Or at least that is what we thought. Whilst he's not exactly an old man like the writer, Stuart is getting on a bit and didn't enjoy the six day a week racing schedule at Monmore as much as he once did. Hall Green used to race three times a week and then added a lunchtime BAGS meeting but that is still a far cry from six racing days and having to get up early every day of the week! When you add in health issues and other factors it really isn't that hard to see why he handed in his resignation at Monmore with effect from the end of March 2022. We would certainly miss him. I suspected he may miss the game after six months or so of partying and holidaying but I was wrong!
For a short while we weren't sure what the way forward would be but it was very pleasing to hear that former Assistant Trainer, Jooles Slater would take over the licence and the Monmore Green contract with effect from 1st April 2022. This enabled the dogs to remain where they were and to continue to race where they're used to. Jooles had a large element of day to day control for a considerable time anyway and we expected the tranistion to be smooth and seemless as one would expect from these industry professionals.
We were so immensely proud that Jooles' first winner as a trainer was none other than our Luigi – Supreme Odin. This was even more fitting as he is one of Stuart's home breds and the first of the current crop of Noduff Racers. She and we weren't finished there though. Fred – Noduff Aria and Jock – Noduff Excalibur went on to make it a treble for us and for Jooles. The following day we then made it five winners when Ridley – Noduff Hacienda and Wilson – Mustang Highway both obliged. As Jooles already knew, we can't keep this up every day!
Sadly, Kate decided she also had to start afresh and has transferred to the kennels of Chris Fereday where she would certainly make a success of her working life and be just as great for the dogs in her care as she had been at Watford Gap.
When Noduff Grand was disqualified out of the blue in an A2 at Monmore we had to choose between sending him back to Ireland for re-schooling or going down the long-established route of sending him hurdling. After much research we elected the latter course and decided that Jim Reynolds at Crayford was the best person to undertake his schooling and racing. It took a while for Jim to have a vacancy at Orchard Kennels (such is the demand for his services) but Wallace was transferred as soon as one came along. We knew Wallace would be in good hands there and he has gone from strength to strength.
Donna Coney is Jim and wife Sue's daughter, she's assistant trainer now and will take over the reins when Jim retires. Working with her on RPGTV it was very heartening to hear from her that Wallace was a 'natural' at hurdling and that she was very pleased with his progress. As we now know, that progress was even better than expected.
Jim has reared a litter by his resident stud Ballymac Micko out of brood bitch Droopys Enya and we bought one at 14 weeks old – now Noduff Rio.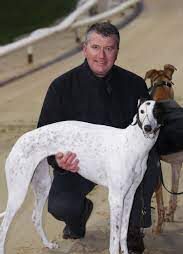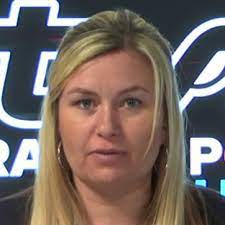 Matters took a turn in 2023 with Jooles moving to Towcester. It wouldn't have been fair to send Fred there after 85 graded runs at Monmore and so he moved to Chris Fereday's kennel to join new acquisition Noduff New York and Kate.