There wasn't a link to this 'secret' page anywhere on the site but our naming structure was revealed to the world live on RPGTV so it would be churlish to keep it hidden.
Yes, our dogs are all named after Las Vegas casino resorts we've stayed or played at over the years in alphabetical order. Here's a little about each of them:
Noduff ARIA – Fred
The Aria is a beautiful property, part of MGM's City Centre development which opened on 16th December 2009. 61 floors in height, it was marketed as 'the most technologically advanced hotel ever built'. Ian had the privilege of staying here on opening night and it's true – there was an IPad device to control everything electronic and you could literally turn off all the lights from your shower! The best thing about Aria however is the poker room, if you like the Omaha variants. You can pretty much guarantee 1-2-5 and 2-5-10 games and often much bigger besides. Our favourite Omaha-based poker room in the USA. Ludicrously expensive to stay at though – stay nearby and commute in to play!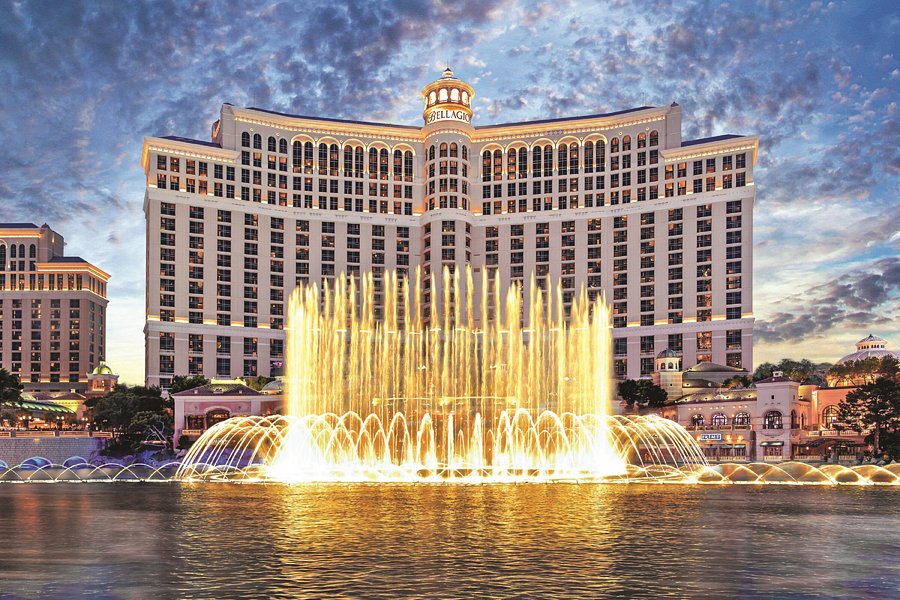 Noduff BELLAGIO – Bonnie
Perhaps the most iconic Las Vegas property because of its fountains, the Bellagio must feature somewhere in every film that's ever been made about Sin City. You'll find some of the city's most exclusive, not to mention, expensive shops here and it also houses the brilliant Cirque De Soleil show 'O' which is one of our all-time favourites. Renowned also for its poker room, you can find some of the highest stakes action in the city here. Named after a small Italian village, the story goes that the mayor was invited on an all-inclusive trip to the Bellagio but declined!
Noduff CAESAR – Bertie
It was difficult to choose which image to show of Caesars Palace, being one of the city's largest and best known landmarks. Famous more for its shows and sporting events than for gambling, Caesars has hosted pretty much every big name performer at one time or another in its 4,296 seat Colosseum, not least Frank Sinatra, Liberace, Elton John (who was reportedly paid $1 million a performance) and, more recently, Celine Dion. Some of boxing's big fights were contested here including Larry Holmes and Muhammad Ali in October 1980, Sugar Ray Leonard and Marvin Hagler and two bouts between Evander Holyfield and Riddick Bowe. Ian's experience was a little less special – housekeeping left his room door open most of the day and into the night but that's another story.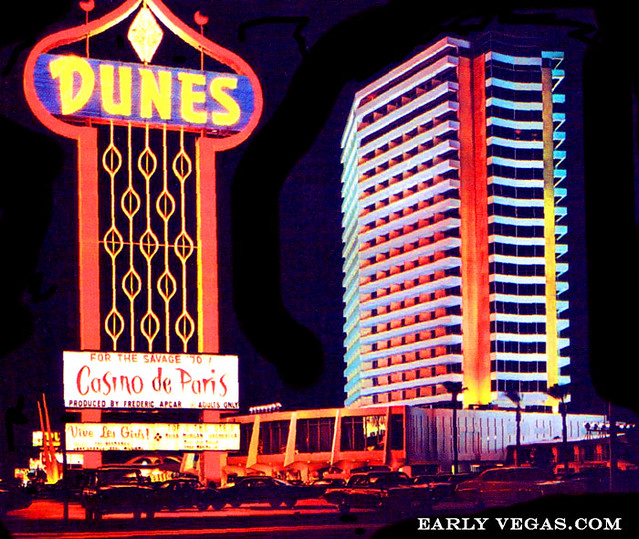 Noduff DUNES – Mia
Very much symbolic of the good old days of Vegas, the Dunes opened in 1955 featuring an Arabian Nights theme and occupied the land where the Bellagio now stands. It had its own impressive golf course as was de rigueur back in the day, just like the Desert Inn. The property was imploded in 1993, an event that over 200,000 people watched. The Dunes golf course is now occupied by parts of Park MGM, New York-New York, CityCenter, Cosmopolitan, and T-Mobile Arena (home of the Vegas Golden Knights ice hockey team). The Dunes hosted Las Vegas' first topless revue in 1957 and was one of the establishments said to be most closely linked to Mafia money and was the subject of a very substantial investment by the pension fund of the International Brotherhood of Teamsters. The Dunes was one of the properties to give way to the modern generation of mega-resorts that shape the city today.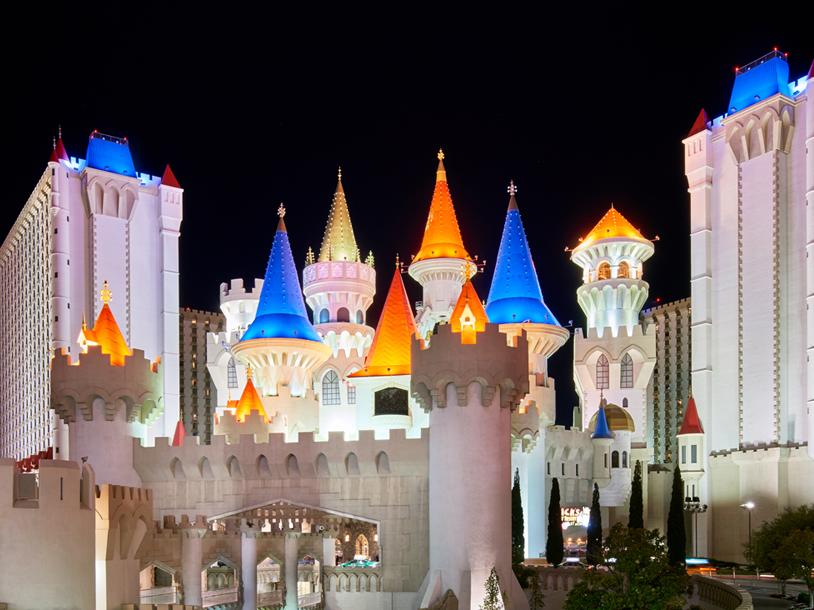 Noduff EXCALIBUR – Jock
Looking much more impressive than it actually is, the Excalibur is situated opposite New York New York to one side and the Tropicana to the other. As the name suggests the theme is very much castle / Medieval Europe and this extends to the Tournament of Kings show held in the basement which features knights on horseback fighting and jousting and where you can banquet like a king and eat with your fingers! Excalibur is a budget resort compared to those that surround it and has seen better days, indeed, when it opened in 1990 it was the largest hotel in the world at just over 4,000 rooms. There used to be a 71 foot animatronic dragon fighting with Merlin in the moat of the castle but this was awarded the "Worst Attraction" accolade by Las Vegas Review-Journal twice and was discontinued in 2004. Excalibur today has something of a cult following amongst visitors.
Noduff FLAMINGO – Raspberry
The Flamingo (unlike Raspberry herself) isn't particularly nice and is very much at the budget end of the Caesars Entertainment portfolio but it holds a special place in our hearts. This was the first property where Ian stayed with his wife and daughter, chosen by the latter for being predominantly pink and having a good pool complex with water slides. Also, being Vegas, it has its own colony of flamingos that live in the grounds – you can smell them from afar.
Flamingo is very well situated near some of the more expensive properties like Caesars Palace and the Bellagio and, if you're on a budget, you can stay there and walk a short distance to play at the nicer properties. The headline act was Donny & Marie Osmond for a remarkable run of twelve years, now replaced by Paula Abdul. Late night shows include the adult offering X Burlesque.
The Flamingo needs a substantial update. As for Ian's daughter, now she only ever wears black.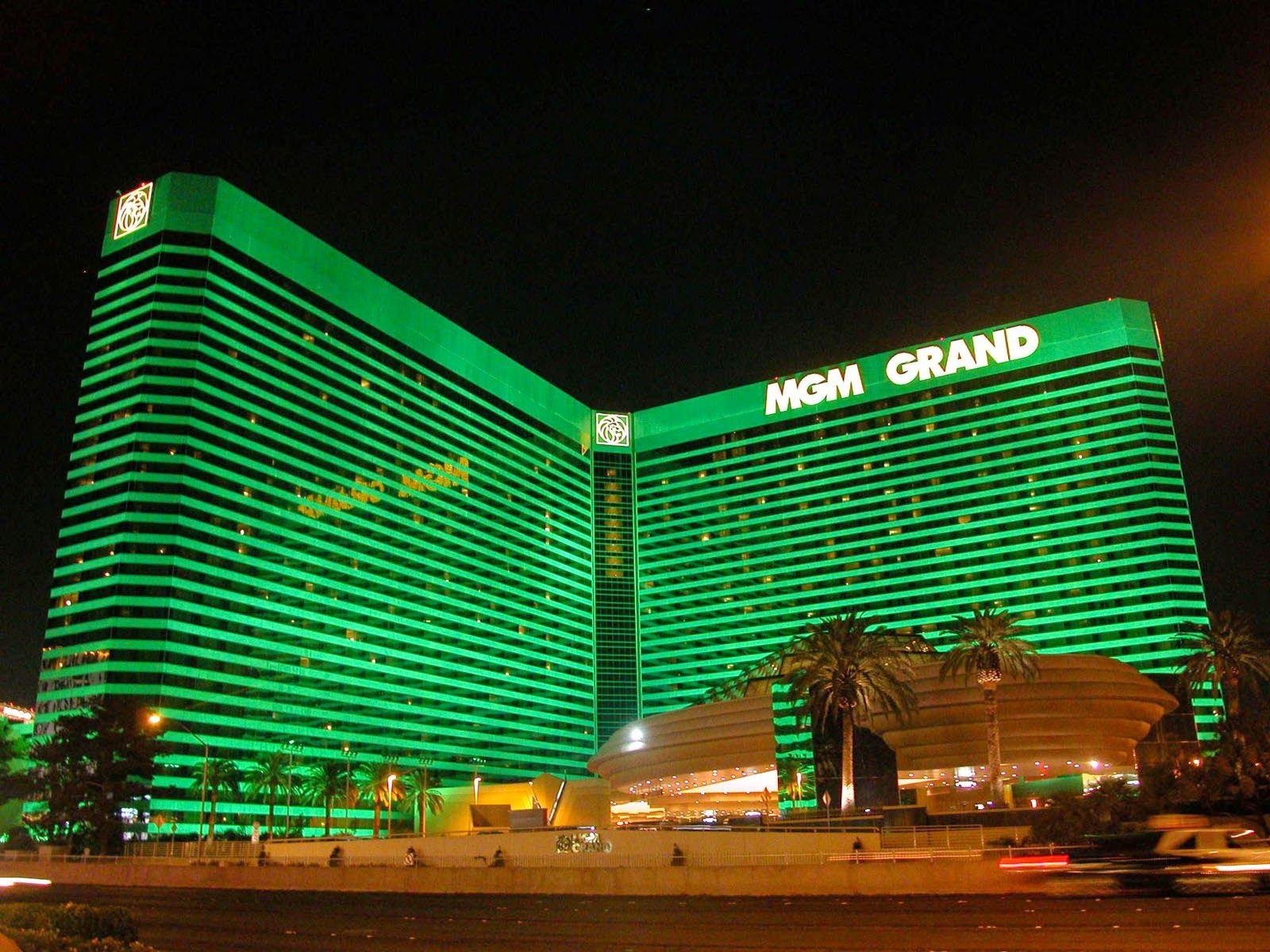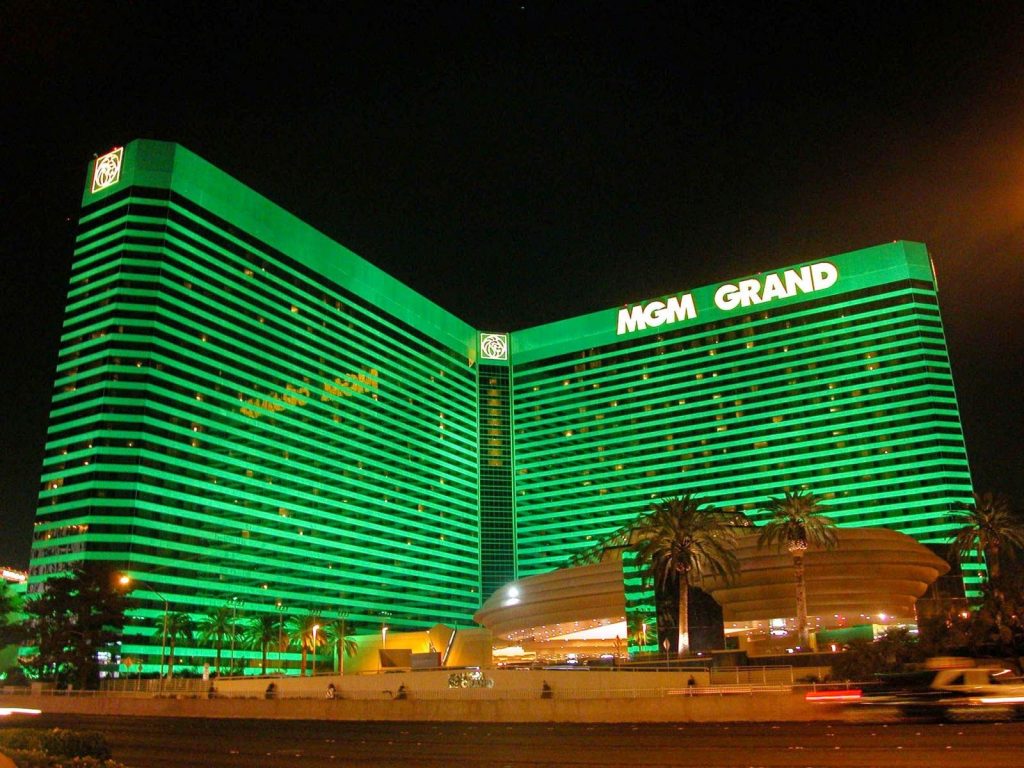 Noduff GRAND – Wallace
When it opened in 1993 the MGM Grand was the largest hotel in the world and remains the largest single hotel in the USA with 6,852 rooms. When Ian stayed here they gave him one of the end rooms with spectacular views but, as you can see, it's a full quarter mile walk to the elevators!
The Grand has been criticised for being just too big and, unlike many of the other properties, having no discernable theme. There have been several nods to the MGM Pictures logo; Leo the Lion, in particular a 70 foot, 50 ton bronze lion which adorns one of the entrances. Also there was a glass-sided lion habitat inside the casino featuring up to six lions (yes, real ones – this is Vegas) with a see-through tunnel for close-up viewing, where the lions would frequently lounge on top of the glass, allowing visitors to walk under them. The lions didn't live there overnight but were ferried in from a ranch outside the city. The lion habitat closed in 2012 ostensibly for renovation but more probably as a reflection of changing attitudes.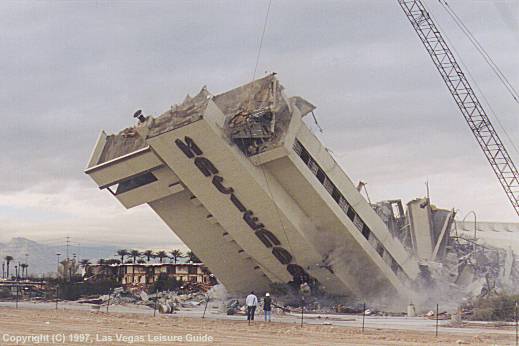 Noduff HACIENDA – Ridley
The Hacienda was built to be the first resort to come into view for visitors ariving from California – deliberately so as most didn't bother to venture any further. It lasted forty years from 1956 to 1996 – a remarkable lifespan for a Vegas resort. The land where it stood is now occupied by the Mandalay Bay complex. Very much unlike the MGM Grand, the property had only 266 rooms until it was eventually extended. It was also famous for flying its patrons in from out of state and, unlike today, you didn't have to be a whale to enjoy that facility.
The resort was perhaps most famous for its huge neon sign of a cowboy riding a Palomino pony. The Hacienda was imploded on New Year's Eve 1996, an event that was a televised special as so many people wanted to see it. As you can see (above) it proved the hotel that refused to die! They don't make them like that anymore. Happily the neon cowboy was saved, has been preserved and restored and is now a tourist attraction Downtown as a symbol of 'old Vegas'.
Noduff IMPERIAL – Absinthe
The Imperial Palace has had one of the most interesting journeys of all Las Vegas properties. It started life as the Flamingo Capri Motel being next to the Flamingo itself. It was aquired by the eccentric Ralph Engelstadt and in 1979 renamed to be the only Asian themed casino property in the city. It featured a lot of shops, a large auto collection and even the first drive through sportsbook. On the plus side the IP was recognised for employing a large number of disabled people but the other side of the coin was Engelstadt's penchant for Nazi-themed parties and his huge collection of Nazi memorabilia. Rather than losing his gaming licence when this was discovered he paid a record $1.5 million fine.
There were other lawsuits including one alleging false imprisonment when over-zealous employees detained a suspected cheat for longer than they should have. Ultimately Harrahs (later Caesers Entertainment) bought the property and transformed it into the Quad. Four or so years later they renamed it again as the Linq which is how it is known today. Ian has stayed there in all three most recent entities. The IP bedrooms were equipped with mirrors on the bedroom ceilings and the poker room was in a corridor near the lift lobby. It was one of the most cost-conscious properties (cheap) but ideally situated for access to Caesars and Bellagio across the Strip. The rooms have been substantially remodelled but the original lifts appear to remain and are amongst the slowest in the city! The Linq is now one of the trendiest locations.
Noduff JOKER – Rum
Alright, I have to admit I was struggling when it came to 'J' as there just aren't many casinos that begin with a 'J' so the best I can do is Joker as in Jokers Wild in Henderson. Hendersonites like to think of it as a separate city but we all know it's really a suburb of Vegas right? A lot of the good people who staff the Vegas properties live in Henderson and when they want to play they frequent some very decent properties on their doorstep including this one and the Green Valley Ranch.
Unlike its more illustrious counterparts on the Strip, Jokers Wild doesn't have a fancy history. It opened in 1990 known as the Cattle Baron Casino. Owner, Boyd Gaming renamed it in1993 as the Jokers Wild Casino. Boyd Gaming own an eclectic mix of properties including the Station Casino chain and the fantastic Red Rock complex at Summerlin.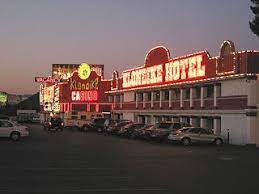 Noduff KLONDIKE – Jake
If 'J' was a struggle so is 'K' but there is a blast from the past that fits the bill. As you can see from the dated picture the Klondike Hotel and Casino was by no means a mega-resort like most of its Las Vegas Strip neighbours. It started life as the Kona Kai Motel in 1962 then that man, Ralph Engelstad, came along and owned it for a while before it changed hands again and was renamed the Klondike Inn in 1976. It had a Western theme, cheap rooms and offered good-value food.
The Klondike was the most Southerly property on the Strip (beyond even Mandalay Bay), lasted until 2006 and was demolished in 2008. Plans were initially for a large resort in its place to be known as the Paramount but that project hit financial trouble and the Klondike now has the distinction of being the only casino property on the Strip now occupied by a Harley Davidson franchise! Most Vegas casinos have featured in one film or another and this one was no different, appearing in Miss Congeniality 2.
Noduff LUXOR – Timone
It's obvious what the theme is here! This homage to the Egyptian Pharoahs dates back to 1993. It's actually thirty stories high and, when it opened, was the tallest hotal building on the Strip. Some of the bedrooms are housed in the pyramid itself and others in the adjacent tower. The Luxor is served by the free monorail that runs from Mandalay Bay to Excalibur. Luxor was always great value – much cheaper than Mandalay Bay and much nicer that Excalibur.
In terms of outstanding features, besides the design, Luxor is famous for its 42.3 billion candela Sky Beam which shines vertically from the apex: the strongest beam of light in the world which apparently uses curved mirrors to collect the light from 39 xenon lamps and focus them into a single narrow beam. On a clear night, it is visible up to 275 miles away.
Noduff MANDALAY – Chanel
This glimmering gold edifice marks one end of The Strip and was completed in 1999 after all manner of construction issues when the ground below it settled substantially and irregularly. This led to delay and greatly increased construction cost. The Mandalay Bay is noted for its enormous convention centre, beach and Shark Reef – an impressive indoor aquarium which includes a notable collection of sharks. The hotel has always been expensive to stay in and isn't everyone's choice because of its location. It replaced the Hacienda (see above).
Sadly, Mandalay Bay will always be remembered as the building from the 32nd floor of which Stephen Paddock opened fire with automatic weapons killing 60 and wounding 867 people outside and across the street on 1st October 2017. The incident remains the deadliest mass shooting by a lone gunman in U.S. history and that is saying something!