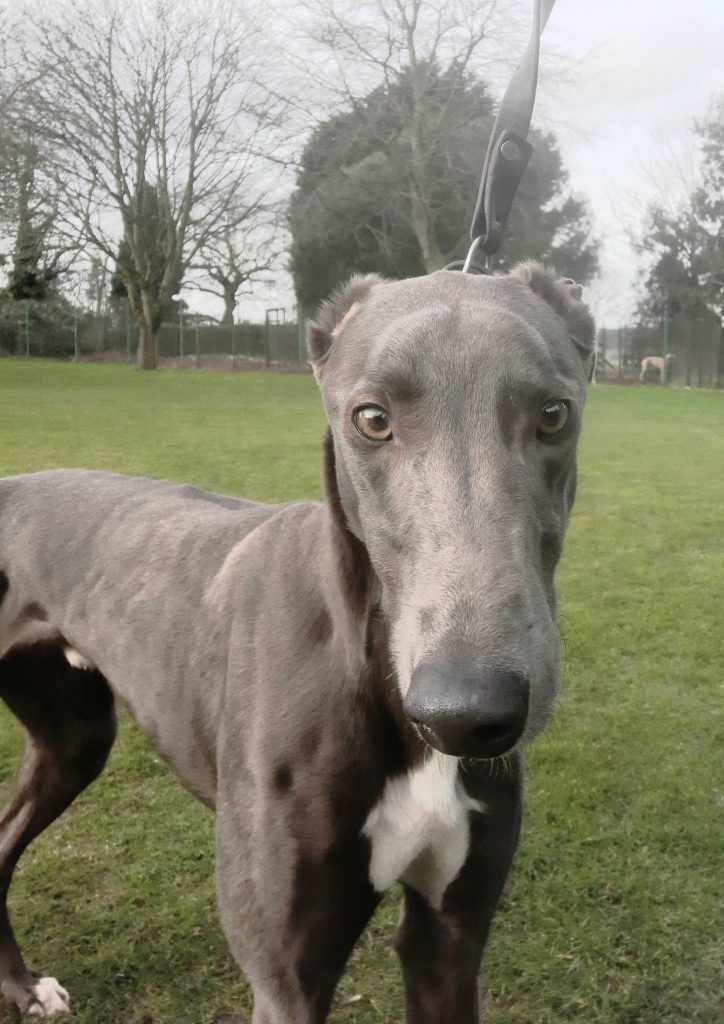 by CONFIDENT RANKIN out of WORK YOUR HEAD whelped 7.9.2020
Race videos are listed at the bottom of this page
This is Catch Em Mossie who we bought out of the Thurles sales on 3rd February 2022 to be known as Noduff Klondike. Jake had only two official trials in his life at the time of purchase, winning at Shelcourne Park first time up in 29.52 and then at Thurles in 29.47. There was a little crowding on the run up in his sales trial and he was worth a little more than the actual winning margin. His sectional was one of the better ones of the trial session. He was a beautiful looking, 77 lbs, blue puppy for whom we had high hopes.
Jake's first trial was twice delayed when he failed his POR drug test not once but twice! He must have scoffed a very great deal of contaminated knacker meat. In any event he started with a modest sprint trial but his first four bend effort was much better when overcoming a troubled passage to run on strongly and take the trial in 29.33. A clear run, more fitness and experience should surely see him breaking the 29 second barrier at some point in the near future.
We had a blood test performed because Jake would lose a little too much weight upon each visit to the track. The results showed a liver issue (very much like Noduff Bellagio) and so he took medication for it. That worked wonders for Bonnie and it seemed to have produced early improvement in Jake also. Combined with a Thunder Jacket and a shorter kennelling time Jake ran impressively on his debut – so much so that the Racing Post made him their Notebook Nap to follow! Someone there was a good judge because on just his second race start he not only won but did indeed break the 29 second barrier!
Only ordinarily away, Jake showed good early to find himself in a tight pocket of other dogs. Rather than do anything rash, he eased very slightly until exiting the second bend then engaged the afterburners and put the race to bed by the third. The extent of this improvement from his first race was such that anything was then possible and we were very excited to see how he progressed. Bonnie came on a lot following completion of the course of medication yet Jake had only just started…
Indeed, his trapping improved on his next start and he turned second dog, picking up the leader to win again in a very fast 28.80. Not bad for A5! He couldn't follow up and land the hat trick next time out but remained a very promising puppy. Jake didn't repeat those times and started to get outpaced early in A4 before flying home. He all but won but was hampered all the way to the second bend which proved the difference between victory and second place.
Jake didn't win again and we never really got to the bottom of him. He had so much potential and the start to his career was so special but he started to put in little better than mediocre performances so we put him on another does of [very expensive] tablets. This time they didn't make any difference. Unfortunately he then broke his hock on 2.11.22 and that was the end of his career which had promised so much but ultimately delivered so little!
Jake was a big baby during his treatment – the trainer's favourite – a beautiful blue dog with real character. He's now back to full health after two operations and rehabilitation and will make a lovely pet for someone via GR Fife. When we delivered him there he was immediately loved by everyone and was already showing that he wouldn't be any trouble.
Noduff Klondike's race videos in date order