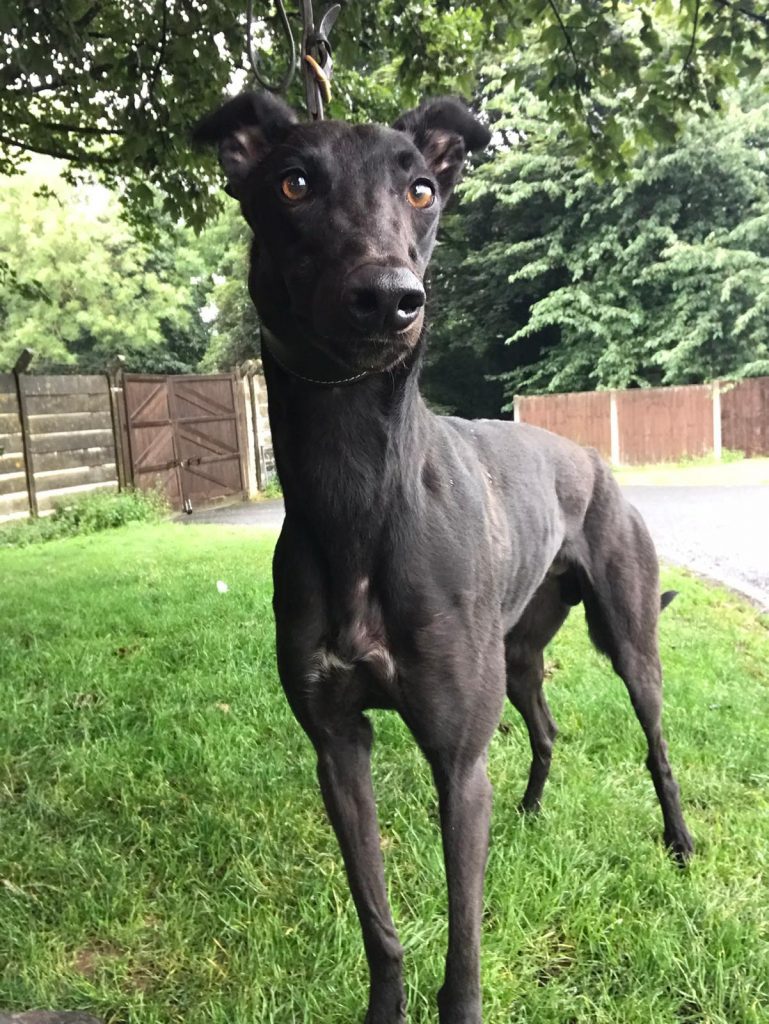 By GOOD NEWS out of CLEVER PRINCESS
whelped 1.1.20
Race videos are listed at the bottom of this page
Noduff Hacienda won his sales trial at Thurles in the second fastest time of the day in going that looked very heavy indeed and certainly worse than the official 20 slow. To reinforce the appeal of his litter, the fastest time of the day was posted by his brother. Ridley, formerly known as Abigail's Apollo, posted a smart sectional and led all the way, staying on strongly.
He reinforced his good initial impression in his first two grading trials, recording 29.04 then 28.94 and railing particularly tightly which is very nice to see. He was consequently matched up with a very good dog in his third trial. He was lying second approaching half way when he was distracted by red-jacketed track personnel and he checked towards them. Only when seeing that the other triallists were continuing, he knuckled down and chased after them, catching one just after the line and getting to within one length of the winner at the pick up. His time of 29.41 was remarkable in the circumstances as he nearly stopped! Though not his fault, that minor mishap would mean an additional grading trial before he could make his race debut.
Matters then took another turn. We received notification from the GBGB that he had failed his Point of Registration drug test due to presence of a corticosteroid. Ridley was placed on the inactive list meaning he would require a 'clean' test before he could trial again, let alone run! We organised the test as fast as possible but it took three weeks for the result to be reported. A trial was arranged as quickly as possible and Ridley excelled himself with a 28.79. He faced the prospect of a further two grading trials on the basis that those before the positive test wouldn't count but the racing office confirmed that this wouldn't be necessary and so he became ready to go!
We looked into how he acquired the trace amounts of the corticosteroid. The previous owner/trainer kindly supplied confirmation that the dog was tested at the track at Thurles and that he was found to be clean so the blame can't be laid at her door! It looks like this will remain a mystery and one of those things that happens in racing.
Ridley was entered for a puppy open at Monmore to begin his career but it didn't fill. He took part instead in a maiden open which was far too hard for his debut and he was duly baulked three times but railed very nicely and would come on for the experience. Indeed his first four runs were marred by a considerable amount of trouble. When dropped to A2 and sent off favourite he was challenging for the lead at the first when brought down. Happily there was just some bruising and when he returned to action he was finally rewarded with a clearish run on the rails. He exploited this to good effect and took the lead on the home straight to win by the shortest of short heads. He had to overcome two lots of bumping to do so. If he actually got a completely clear run he could go a lot faster!
He won a second A2 in December but on New Years Eve disaster struck and he broke a toe during his race. Off to the vet he went and half the toe had to be amputated. One never knows how a greyhound will recover from this but we gave Ridley lots of time and he reappeared at the racecourse in March – thrown into an impossible A1! He won his third A2 in good style two runs later and was now back in A1 where that elusive first top grade victory surely wouldn't be far away. He's another that very much prefers trap one.
Ridley then seemed to have altered his running style with age (rather like Jock – Noduff Excalibur). He is showing less early but is coming home better and so we decided to have a go at six bends. It took forever to organise a trial so, in the end, he ran in a 630m maiden instead. That turned out to be an incredibly hot race and he was drawn in trap 4 so it was mainly a case of fingers crossed that he made it round unscathed! Happily he did and he wasn't disgraced and broke 39 seconds and could obviously do better.
In fact Ridley never won an A1 but he did win a four bend open race in 28.73! He went on to win another A2 and then came his 630m debut in a very decent S1. He led and never looked like getting beaten, coming home in a great 38.45. It would be fair to say that his career since has been chequered. He has been very frequently outgraded, running in top grade S1s and open races beyond his compass. He has won only once since in A3 and hasn't been doing himself justice.
As he appears to stay better and better we wanted to try him over 684m at Monmore but those races are very few and far between and instead he tried 712m at Towcester. That was his first look at the track and he didn't run the bends well. More experience would be needed. The good news was that he certainly stayed the trip running on strongly to the pick up. He will now ply his trade over four and six bends there where he needs a couple of clear runs to improve his confidence.
Noduff Hacienda's race videos in date order