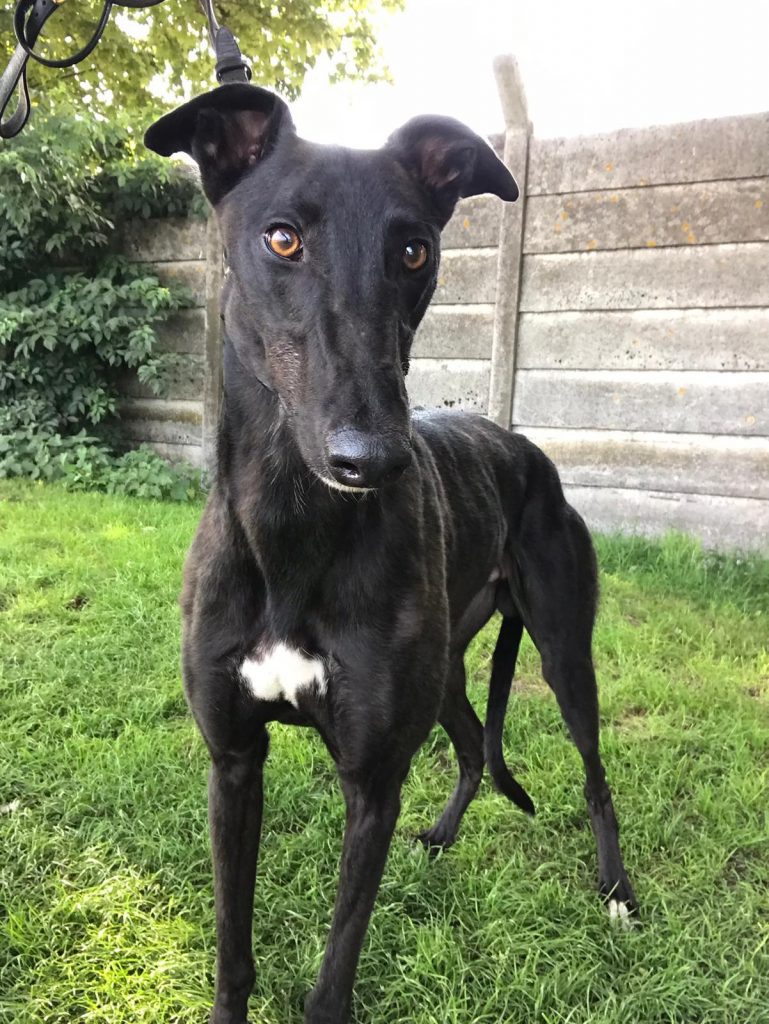 By DROOPYS SYDNEY out of DROOPYS ADELAIDE
whelped 25.11.19
Race videos are listed at the bottom of this page
This beautiful looking dog is MORSE CODE, now known as Noduff Grand. We bought this son of Droopys Sydney at the Monmore sales on 15.7.2021 when he won his sales trial in a very impressive 28.70. That was particularly impressive given his young age and because it was his first ever look at the circuit. His sectional time was a modest 4.58 on a slightly slow track so there should have been plenty more to come from this promising dog.
Wallace recorded two sub-29 second times in his grading trials and was ambitiously pitched straight into an open race competition for puppies on the Monmore Gold Cup semi-final card. Unsurprisingly given it was his first race under lights and after a long kennel, he missed his break and was baulked several times before finding himself challenging for third at the final bend. He went inside then switched outside and his chance was gone. He still lacked the experience to choose the best path but that would come with age. He broke 29 seconds again and would only do better.
In his second A3 on 27.8.21 he was running on up the home straight and looked like he would finish third when he tangled with the five dog who cut inside. Wallace took a nasty looking tumble. He got up and finished but suffered some bruising and soft tissue injuries. He had a month's rest and a course of tablets before running a very decent 15.60 sprint trial which enabled him to grade again. The video of the race in which he fell has been omitted from the following list for obvious reasons.
A spell on the sidelines was followed by two more trouble-marred races before Wallace finally opened his account on 3.11.21, running on very strongly to lead at the third bend. Having got the hang of it he then immediately followed up in A3, chasing down a runaway leader at the final bend and breaching the 29 second barrier. He was up to A2 and seeking a quick hat trick. Wallace had become so consistent early that he ran four races with sectionals all between 4.44 and 4.48. He powered up the inside and contested all the way to the home straight before being run out of it by half a length and finishing second. His time of 28.76 underlined his improvement and his debut in A1 company surely wouldn't be far away.
Then, completely out of the blue, it all went wrong. On 2.12.21 (you can watch below) he missed the break from trap 3 and had yet another rough passage. He was running on in fourth place and with the one dog on his inner. Whether Wallace wanted the rail or for what other reason we don't know but he 'had words with' the dog on his inside and was disqualified. He had been drafted in as a short-notice reserve for the race. Whether it was because his normal race routine had been altered we will never know. The decision was a little harsh in the circumstances but once done a disqualification can't be undone. So, having never done anything untoward before, Wallace now had just one chance left.
The choice that faced us was going back to Ireland with Mustang Highway for a spell of re-schooling or going down the tried and trusted route of hurdling. We elected the latter – we would see if he had any aptitude for jumping. Jim Reynolds at Crayford agreed to take him and it was just a case of waiting for a vacancy at Orchard Kennels. Christmas and New Year is the very worst time to find a vacancy but one finally became available and Wallace was transferred on 30th January 2022. It was almost certainly too late for that year's Springbok (even if Wallace shows aptitude) but Crayford hold regular graded hurdle races and that would keep him active if able to jump!
Initial reports were that Wallace jumped 'like a natural' on the gallops. This didn't quite prove to be the case however when given handslips at the track. He would jump the first hurdle brilliantly only to think too much and swerve to the right at the second. Many more gallops and handslips ensued and eventually he was tried from the boxes. He did the same at hurdles one and two then stumbled and fell at hurdle three. It seems that timber just isn't for Wallace after all so it was back over the flat at Crayford via a set of clearing trials.
Happily those trials were uneventful. Wallace didn't get a clear run but recorded respectable times and, most importantly, there was no argy bargy. He made his Crayford debut in a lowly A5 on the 3rd May 2022 and what a debut it was! He led from the boxes and flew round to win unchallenged by 6.25 lengths in 23.45. That earned him a double upgrade. He missed the break in his first A3 but again pinged the lids in his second and led all the way to make it two from three. He didn't get a clear run in his A2 but still ran respectably to be in a photo for second. He was entered into a 540m maiden next in lieu of a trial and only went and led all the way! He was upped to a better class of open the following Staurday and repeated the victory to have him winning four from six. That saw him go off a short-priced favourite for the hat trick but he missed the break and did remarkably well to finish a close second. Wallace would continue his hurdles training in the background with a view to a hybrid flat and jumps career. Exciting times!
It seemed a good idea to send Wallace to Hove for a trial as 500m/515m could well be his perfect trip as 540m around Crayford somewhat taxes his stamina. He recorded a 30.25 off a modest sectional which was OK without being earth shattering and Jim decided he should have a second look as Hove is difficult to run first time up. He was slated to trial again nine days later but shortly before departure he was bitten by his kennelmate and that outing had to be cancelled in favour of a spell of sick leave!
Following his return Wallace has gone from strength to strength. With the exception of a two month injury break in mid 2022, Wallace hasn't been able to stop winning. He has taken surprisingly well to the tight track at Crayford and, when leading, he won't let a rival past him. Very few dogs manage to win both A1 and S1 at their home track but Wallace has done so and has won no fewer than four open races in addition. He's contested several OR3 and OR2 competitions as well and accredited himself well in each. A lot of credit must go to trainer Jim Reynolds for this. Of course, we will never know how he would have got on at Monmore but Crayford's 540m trip has proved perfect for Wallace.
Noduff Grand's race videos in date order