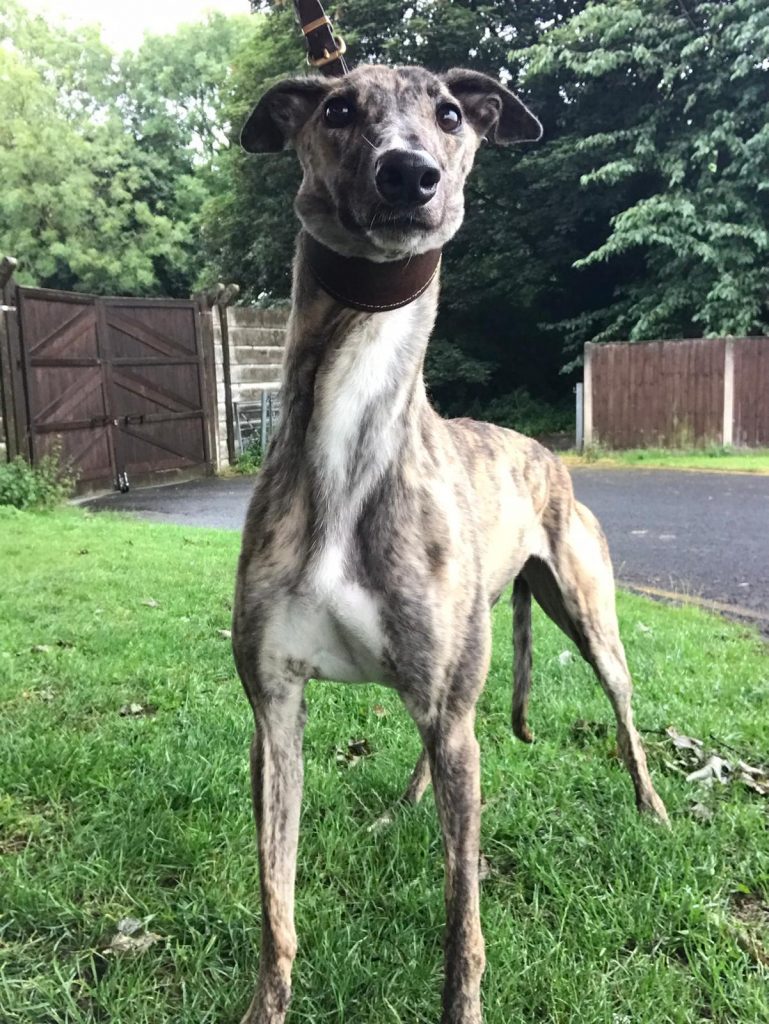 By BALLYMAC ESKE out of RATHIN QUEEN
whelped 20.2.20
Race videos are listed at the bottom of this page
This is Raspberry, formerly known in Ireland as Florida Peg and, as at the date of this picture, she was the youngest member of our kennel being a late February 2020 whelp.
We bought her unraced following a gutsy win from behind run in her Thurles sales trial. She had a lot of scope to improve. She completed her grading trials at the beginning of September 2021 recording between 29.47 and 29.69. This is exactly the sort of greyhound that Stuart Buckland did so well with.
Her father Ballymac Eske is a prolific stud dog famous as winner of the Scottish Derby and the Racing Post Juvenile both in 2013. He is also the track record holder at Monmore which is appropriate as that is where his daughter would race.
Her mother, Rathin Queen, had a long racing career in Ireland and broke the 29 second barrier at Shelbourne Park.
Raspberry's racing career started in A7 where she looked a little lost as such a young and tiny bitch. She would certainly improve with more experience. In fact she developed the habit of trapping smartly before being outpaced, dropping back then running on strongly – but not until the race was over! Despite her age we therefore decided to step her up to six bends sooner rather than later but before we could do so she sustained a strain which would need four weeks or so on the sidelines.
She then came into season which was great as she could recuperate whilst unable to run. She then went from strength to strength when back at the track winning her A10 then her A9 in successive races. She was narrowly denied in her bid for a treble. We gave her a solo trial over 630m and she stayed strongly albeit very wide indeed. Hopefully she would get a six bend race shortly thereafter and she wouldn't travel so wide with other dogs in the race. Notably Jooles reported that she was still bouncing and full of energy after the trial!
It seemed a long time since March and April when Raspberry won three from four and looked highly progressive. It wasn't until August 2022 that she got her head in front again in A9, finishing strongly. The following month she was dropped back to that grade and won again so she had seemingly found her level. An S3 race then finally came along but she was slow early and far too wide and a second attempt proved no better. She needs a graded marathon but they don't exist!
A seasonal rest ensued then she dropped down the rankings to A10, not looking likely to win. Raspberry clearly enjoys racing though so there are no thoughts of retirement while she continues to do so. She's off to Towcester now with Jooles so let's see how she gets on over slightly longer distances.
Noduff Flamingo's race videos in date order