by JUMEIRAH BRAN out of JUMEIRAH CHARM whelped 16.9.2019
Race videos are listed at the bottom of this page
Meet JUMEIRAH DOBEY (pictured), shortly to be known as NODUFF CAESAR. We've been looking for a greyhound from this litter for a while. They all seem to be high quality animals with bright futures who are progressing rapidly. One has already posted a very decent 28.48 at Shelbourne Park and another has won in A2 at Nottingham on only his second UK start. All those who are yet to race here have recorded very promising trials.
We spotted Bertie at the Kilkenny sales trials on 24.4.21, where he recovered well from a first bend bump to run on strongly, stopping the clock in a calculated 29.56. There looked to be a great deal more to come from this potential stayer who also cuts a striking figure in the paddock as you can see above.
Devastatingly, Bertie clipped the heels of the dog in front during his second trial and fell. His central tarsal bone in his off hind leg was found to be significantly displaced. He would need an operation for it to be relocated to the correct position and fixed with a pin. Thereafter it would just be a question of rest and recuperation.
That operation was arranged as soon as the swelling had gone down sufficiently and appeared to go well. Bertie returned to the kennel with a heavy strapping to be reviewed again after a week. There was no doubt Bertie was otherwise well in himself. He was reported to have snaffled other dogs' food at every opportunity which is always a good sign.
On 8.6.21 he went back to the vet for his post-operation check up. Great news – the vet was very happy, especially with Bertie weight-bearing on his leg so soon. He has a single pin going into the side of the hock, would have a splint for 6 to 8 weeks then he will be reviewed again.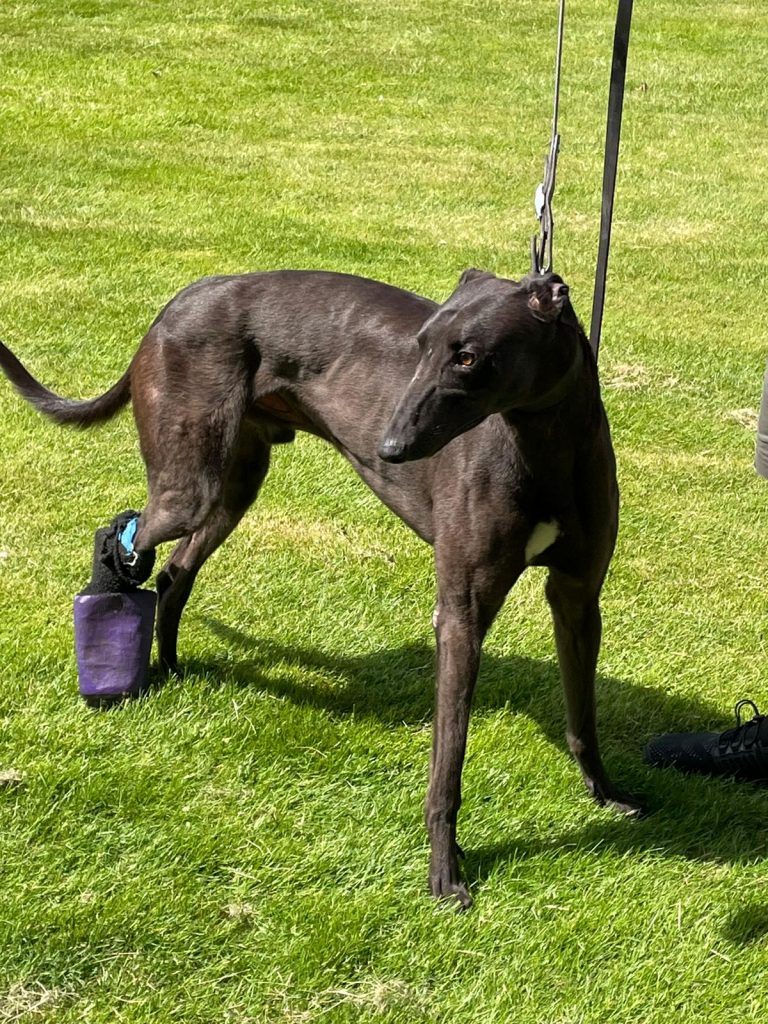 Since then the cast has come off. The next step would be for the pin to come out then just a question of letting nature take its course. One thing you can be sure of; no expense will be spared making sure Bertie is as comfortable as possible and so we embarked on a course of Tvati treatment to promote the best possible recovery.
Gradually Bertie has been moved to bigger and bigger paddocks so he could stretch out more. He did so on his own initially then with his partner. It was great to see him running around without a care in the world. Eventually, of course, came the moment of truth. Sooner or later he would have to return to the track to see whether he would enjoy a racing career or not. That handslip took place in early November 2021 and he was so excited! He ran extremely well and quickly to boot and we started to get a little more optimistic. Even more so when he appeared the following morning to have suffered no ill effects. A week later and he was rostered for a solo sprint trial. He didn't appear to be moving so well and the time was disappointing. The following morning he was very sore in his damaged hock and had to be given painkillers. It was then we knew that there would be no racing for Bertie and he was officially retired. He has now headed off to a comfortable sofa courtesy of Wolverhampton RGT.