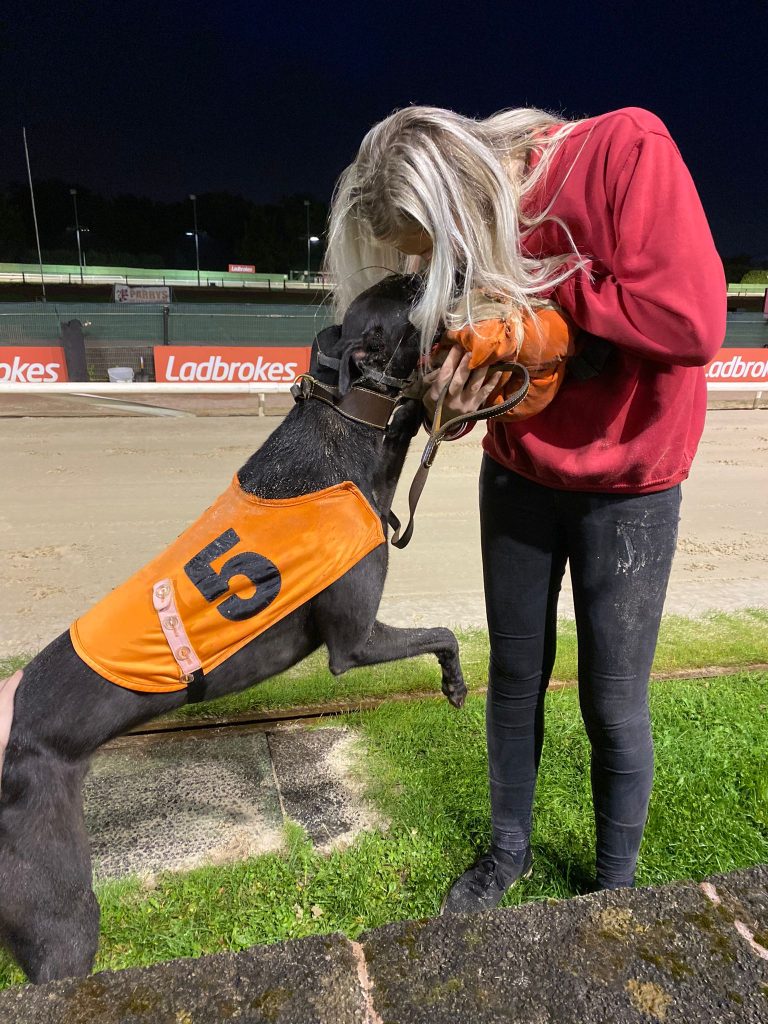 By DROOPYS JET out of ABSOLUTELY ACE
whelped 21.3.19
Race videos are listed at the bottom of this page
In addition to owning Supreme Odin and all the Noduff dogs, we are also part of the Watford Gap Racing Club. Stuart Buckland's kennels are at Watford Gap, Lichfield hence the name. As part of that Club we are honoured to be one of a small number of shareholders in the wonderful Chasing Landy (pictured above with assistant trainer Jooles Slater).
Cooper was bought after recording a special 28.64 at Youghal – by no means one of the faster tracks in the Republic. That aside his Irish card was quite unremarkable. He ran in good company but with only modest success. My, how that was to change in England! He was thrown in at the deep end as one of two kennel entries in the English Derby, recording a decent time at Towcester but bowing out in the first round after finishing fourth. He was sent grading and was obviously put into top heat A1s from the outset. He has since won four of them in addition to local open races over both 480m and 630m.
Six bends at Monmore proved the absolute limit of his stamina so instead of taking a tilt at the Summer Stayers' Classic he was aimed instead at the Ladbrokes Gold Cup and duly made it all the way to the final! He had no luck at all in running in the final eventually finishing fourth but his performances have earned him a cult fan following and even a song! A trip to Sheffield for the Steel City Cup lay on the horizon where the stiff 500m would surely suit.
In fact it seems that Sheffield didn't suit him although we don't know why. An ordinary trial was followed by fourth place in the first round of the competition, elimination and it was back to Monmore and to the drawing board. Normal service was restored with an all-the-way victory in a one-off open and then we decided he would have a go at the Eclipse at Nottingham. His trial was promising and he reversed Sheffield placings with kennelmate Cascade King. In the first round he came from last to second having to go around the field but recorded the fourth fastest time of the heats. With the normal improvement we expected from him for another look at the circuit we were quietly hopeful of him qualifying for the final but he missed the break and it wasn't to be.
2022 wasn't as kind to Cooper as the previous season. He led all the way in a top grade contest but was baulked in a minor open race and could only finish third. He had a rest then a couple of trials before returning in exalted open race company where he didn't show his normal will to win. Four unsuccessful top grade A1s followed. Cooper didn't appear quite himself and it was no surprise when he was diagnosed with a pull to the offside bicep. He had four weeks of rest and recuperation and would then trial back onto the strength.
That didn't work the oracle and he dropped to A3 without success. He then had a terrible looking fall when he slipped on the hare rail having got into the habit of running even wider than normal. Happily nothing was broken but Cooper certainly felt sorry for himself afterwards and was treated to some steak for dinner. Another spell of holiday then ensuds which was no bad thing given the weather!
Cooper then confirmed he was made of sterner stuff. A couple of runs in A3 got him back near to full fitness and when he was dropped to A4 he showed what he was still made of, romping home in 28.70. A double upgrade ensued but it only took him two runs to win again, this time in A2 and it was back to top graded company. He contested three more A1s in all and was then dropped back to A2. He pinged out twice, leading clear on each occasion and we thought that meant certain victory given how we were used to see him finish his races. In fact he tied up a little both times and was caught on the line which was most unlike him. His third attempt saw him drop right out and finish with a torn hamstring.
It was soon quite clear that this was a career-ending injury but what a career! Cooper owes us nothing and now he heads off via Hall Green RGT for a long and happy retirement on a comfy West Midlands sofa.
Chasing Landy's race videos in date order